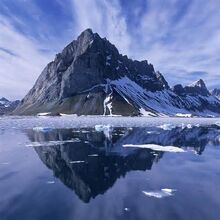 Frosty is a Hyena, a species of African dog. He lives in the Mountain of Ice near the Creation Shrine. Frosty is only enemies with one animal, the Lions. Lions killed his wife when they were just married. He was once invincible,giving up this power to save a family known as the Aether's.
Occupation
Edit
Frosty's occupation is creating the lifeforms of the different regions. He even has created his enemies, the Lions.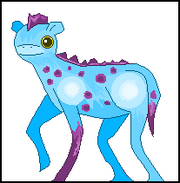 Appearance
Edit
Frosty is an ice colored Hyena. He has an icy-blue body with a violet mane, and spots. When he breathes out, the air that comes out freezes everything on contact.
Abilities
Edit
He has amazing ice powers.
He can teleport through puddles of water.
He can create objects out of ice.
Weaknesses
Edit
Lizard:Undead
Red Panda
Wolf
Pit Viper
Siamese Cat
Sea Serpent
Hyena
Eagle:light
Robot Baby
Zombie Kid
Adipose
Chupacabra
Licker
Music Interests
Edit
Alt-J:Hunger of the Pine;Breezeblocks;Every Other Freckle;Taro;Lovely Day;Bloodflood pt.ll
The Living Tombstone:Five Nights at Freddy's
OneRepublic:Love Runs Out;Counting Stars;Ordinary Human;Feel Again
Foster the People:Psuedologia Fantastica;Ask Yourself;Don't Stop (Color on the Walls);A Begginer's Guide to Destroying the Moon;Best Friend;Miss You;Warrant;Nevermind;Are You What You Want to be?
The Lumineers:Flowers in Your Hair;Submarines;Ho Hey;Dead Sea;Stubborn Love;Flapper Girl
Of Monsters and Men:Dirty Paws;From Finner
Massive Attack:Teardrop;Paradise Circus
The Black Keys:Lonely Boy;Little Black Submarines;In Our Prime;Fever
Fitz and the Tantrums;Rich Girls;The Walker;Tell me What Your Here For;Dear Mr. President;Don't Gotta Work it Out
Meghan Trainor:All About That Bass
Video-Game Interests
Edit
Little Big Planet;Five Nights at Freddy's;Animal Jam;Pokemon;Kingdom Hearts;Minecraft;Castle Crashers;Tokyo Jungle;Resident Evil;Playstation All-Stars Battle Royale;Mortal Kombat;Spore;My Singing Monsters;Criminal Case;Walking Dead
Book Interests
Edit
Series of Unfortunate Events;Dork Diaries;Zoo Books(Lolz,I read for the animals);Diary of a Wimpy Kid;Zombie Chasers;Beatrice Letters;Warm Bodies;Goosebumps
Movie ans TV Show Interests
Edit
Movies:Warm Bodies;Muppets;Shawn of the Dead;Land of the Dead;Sky;Harry Potter;Goonies;28 Days/Weeks Later;13 Sins;School of Rock;Secret Life of Walter Mitty;Hell Boy;Warriors Way;Night of the Museum;How to Train Your Dragon;Frozen;Brave;Nightmare Before Christmas;Lilo and Stitch;Wreck-it-Ralph;Van Helssing;Titanic;Creature From the Black Lagoon
TV Shows:Gravity Falls;Doctor Who;My Little Pony;Walking Dead;Black Butler;How I Met Your Mother;House M.D.;The Simpsons
Inventory
Edit
I have 85G and 1D
I have a Venom Jar
I have a Book of Rock Magic
I have a Book of Water Magic
I have a Flock of Kamakaze Crows
I have an Undead Element Orb
I have have a Book of Poison Magic
I have an Air Element Bow and Arrow Set
I have Foxy's Sword
I have Michone's Kitana